On-line Books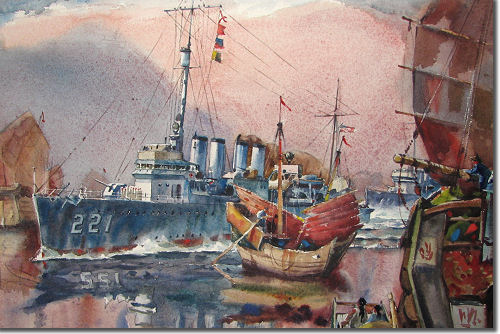 Battle ship by war artist, Arthur Beaumont
On-line Books 
The Internet is fast becoming an online library.  Several sources including the Gutenberg Project, Bartleby, the University of Kansas and BookRags offer books and other publications, including poetry, diaries and journals.  In some cases the works may not be complete, but contain only excerpts.  In order to find the books categorized below you can search by the title of the work.  However, you can visit each of the Internet sites previously named.  Each of these sites is constantly adding books to their holdings.  Year of publication is provided when known as well as other pertinent information pertaining to the book, including awards and/or if it was translated into English from other language.
If a book you are looking for isn't listed, it may mean that it is not yet in the public domain.  Books are copyright free in the European Union 70 years after the death of the author or if published before 1923 in the United States.
Bartleby.com—The Preeminent internet publisher of literature, reference and verse proving students, researchers and the intellectually curious with unlimited access to books and information on the web, free of charge. 
BookRags.com—BookRags was founded in 1999 by two recent college graduates interested in providing on-demand educational resources to students around the world. Launched with just 40 book notes, BookRags has expanded over the years into one of the largest, most respected student education websites, with over 5.8 million unique pages of content. The goal of BookRags is to make it a complete research location for students of any age. As the tagline claims: "Research Anything." Enter any topic in the search box, and there's a good chance we'll have quality information on it. Larger topics are discussed in depth, with resources including encyclopedia articles, critical essays, student essays, biographies, primary sources, interviews, and study guides.