Carolyn Forche--American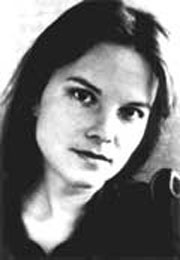 Carolyn Forche is one of the most popular American poets writing today. Forche's first poetry collection, Gathering the Tribes, won the Yale Series of Younger Poets Award in 1976. With an educational background in international relations and creative writing, Forche is a dedicated advocate for human rights and a chronicler of poetry that upholds human dignity and the importance of witnessing. Her anthology, Against Forgetting: Twentieth Century Poetry of Witness is a compilation of global voices who relate stories of injustices, prejudices and persecutions. Forche has been awarded fellowships from the National Endowment for the Arts, the Guggenheim Foundation and the Lannan Foundation.
What It Cost


 

In the pink tintype earliest hours,

we were moved out of Kiev.

Grey pelts to our necks smelling

as cold as in Wakhan on the dunged straw.

Asleep with fog in our mouths.

We ate the chunks bobbing in soup

someone thinking it excrement, and drank

bad vodka poured over black breads.

Each slept where he sat, one window

in the whole place, beyond that 

muslin snow mounded where 

feed piles were left.

We each thought we knew someone

still alive who would butcher dogs

to cook.

This friend's name runs in damp sweat

until it bleeds enough, cannot be read.

We were young,

the children ate flesh

pulled from pyres.

Mothers wrapped dead babies

in blankets and carried them.

As we will never know what it means 

we will know what it cost.

Our icons, our cross, balalaikas

burning up.

Goose down, wagons full of tarps

and crockery and deaths

throughout the tundra, deaths 

as the trains steamed through snow

into sunrise.

We never stopped at towns.

Old blue hands in snow banks

motioned on:

 

Haul your language south.

There are knives in your pillows.

The while birds fall another month.
Our life is a fire dampened, or a fire shut up in stone.
                                  -Jacob Boehme, De Incarnatione Verbi

Outside everything visible and invisible a blazing maple.
Daybreak: a seam at the curve of the world. The trousered legs of the women shimmered.
They held their arms in front of them like ghosts.

The coal bones of the house clinked in a kimono of smoke.
An attention hovered over the dream where the world had been.

For if Hiroshima in the morning, after the bomb has fallen,
is like a dream, one must ask whose dream it is. [1]

Must understand how not to speak would carry it with us.
With bones put into rice bowls.
While the baby crawled over its dead mother seeking milk.

Muga-muchu [2]: without self, without center. Thrown up in the sky by a wind.

The way back is lost, the one obsession.
The worst is over.
The worst is yet to come.


[1] Question asked by Peter Schwenger in Letter Bomb
[2] From Robert Jay Lifton's Death in Life: Survivors of Hiroshima.