Anthony Hecht--American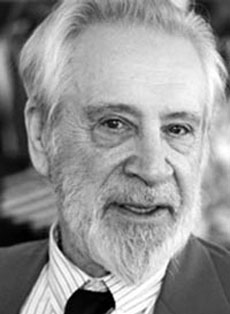 Anthony Hecht
(1923-2004)
There were many notables in Anthony Hecht's life.  A good family friend, Ted Geisel (Dr. Seuss), was enlisted by his parents to discourage him from being a poet, his classmate was Jack Kerouac, and his college friends were Robert Lowell, Randall Jarrell, Elizabeth Bishop and Allen Tate.  Born in New York City in 1923, Hecht was drafted into the 97th Infantry Division of the military and sent to Europe after his graduation from Bard College in 1944.  He was involved in the liberation of the Flossenbürg concentration camp.  This experience haunted him for years to come.  Hecht won the Pulitzer Prize for Poetry in 1968 for his collection, The Hard Hours.  He was U.S. Poet Laureate from 1982-84.  He died in 2004.
A Hill


In Italy, where this sort of thing can occur,
I had a vision once - though you understand
It was nothing at all like Dante's, or the visions of saints,
And perhaps not a vision at all. I was with some
friends,
Picking my way through a warm, sunlit piazza
In the early morning. A clear fretwork of shadows
From huge umbrellas littered the pavement and made
A sort of lucent shallows in which was moored
A small navy of carts. Books, coins, old maps,
Cheap landscapes and ugly religious prints
Were all on sale. The colors and noise
Like the flying hands were gestures of exultation,
So that even the bargaining
Rose to the ear like a voluble godliness.
And then, when it happened, the noises suddenly stopped,
And it got darker; pushcarts and people dissolved
And even the great Farnese Palace itself
Was gone, for all its marble; in its place
Was a hill, mole-colored and bare. It was very cold,
Close to freezing, with a promise of snow.
The trees were like old ironwork gathered for scrap
Outside a factory wall. There was no wind,
And the only sound for a while was the little click
Of ice as it broke in the mud under my feet.
I saw a piece of ribbon snagged on a hedge,
But no other sign of life. And then I heard
What seemed the crack of a rifle. A hunter, I guessed;
At least I was not alone. But just after that
Came the soft and papery crash
Of a great branch somewhere unseen falling to earth.
And that was all, except for the cold and silence
That promised to last forever, like the hill.

Then prices came through, and fingers, and I was restored
To the sunlight and my friends. But for more than a week
I was scared by the plain bitterness of what I had seen.
All this happened about ten years ago,
And it hasn't troubled me since, but at last, today,
I remembered that hill; it lies just to the left
Of the road north of Poughkeepsie; and as a boy
I stood before it for hours in wintertime.

The Dover Bitch: A Criticism of Life

So there stood Matthew Arnold and this girl
With the cliffs of England crumbling away behind them,
And he said to her, "Try to be true to me,
And I'll do the same for you, for things are bad
All over, etc., etc."
Well now, I knew this girl. It's true she had read
Sophocles in a fairly good translation
And caught that bitter allusion to the sea,
But all the time he was talking she had in mind
the notion of what his whiskers would feel like
On the back of her neck. She told me later on
That after a while she got to looking out
At the lights across the channel, and really felt sad,
Thinking of all the wine and enormous beds
And blandishments in French and the perfumes.
And then she got really angry. To have been brought
All the way down from London, and then be addressed
As sort of a mournful cosmic last resort
Is really tough on a girl, and she was pretty.
Anyway, she watched him pace the room
and finger his watch-chain and seem to sweat a bit,
And then she said one or two unprintable things.
But you mustn't judge her by that. What I mean to say is,
She's really all right. I still see her once in a while
And she always treats me right. We have a drink
And I give her a good time, and perhaps it's a year
Before I see her again, but there she is,
Running to fat, but dependable as they come,
And sometimes I bring her a bottle of Nuit d'Amour.
            For Heinrich Blucher and Hannah Arendt
Composed in the Tower before his execution
These moving verses, and being brought at that time
Painfully to the stake, submitted, declaring thus:
"I implore my God to witness that I have made no crime."
Nor was he forsaken of courage, but the death was horrible,
The sack of gunpowder failing to ignite.
His legs were blistered sticks on which the black sap
Bubbled and burst as he howled for the Kindly Light.
And that was but one, and by no means one of he worst;
Permitted at least his pitiful dignity;
And such as were by made prayers in the name of Christ,
That shall judge all men, for his soul's tranquility.
We move now to outside a German wood.
Three men are there commanded to dig a hole
In which the two Jews are ordered to lie down
And be buried alive by the third, who is a Pole.
Not light from the shrine at Weimar beyond the hill
Nor light from heaven appeared. But he did refuse.
A Luger settled back deeply in its glove.
He was ordered to change places with the Jews.
Much casual death had drained away their souls.
The thick dirt mounted toward the quivering chin.
When only the head was exposed the order came
To dig him out again and to get back in.
No light, no light in the blue Polish eye.
When he finished a riding boot packed down the earth.
The Luger hovered lightly in its glove.
He was shot in the belly and in three hours bled to death.
No prayers or incense rose up in those hours
Which grew to be years, and every day came mute
Ghosts from the ovens, sifting through crisp air,
And settled upon his eyes in a black soot.