Dorothy Parker--American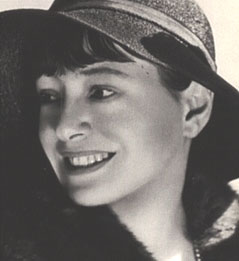 Dorothy Parker
(1893-1967)
A memorial plaque for Dorothy Parker says a great deal about the person.  It reads: "Here lie the ashes of Dorothy Parker (1893-1967) humorist, writer, and critic—defender of human and civil rights.  For her epitaph she suggested, "Excuse my dust."  The memorial garden is dedicated to her noble spirit which celebrated the oneness of humankind and to the bonds of everlasting friendship between Black and Jewish people.  Dedicated by the National Association for the Advancement of Colored People, October 28, 1988 the citation reads: "Parker wrote things as she saw them."  She was one of the founding members of the Algonquin Writers' Table.
War Song
Soldier, in a curious land
      All across a swaying sea,
Take her smile and lift her hand—
      Have no guilt of me.
Soldier, when were soldiers true?
      If she's kind and sweet and gay,
Use the wish I send to you—
Lie not lone till day!
Only, for the nights that were,
      Soldier, and the dawns that came,
When in sleep you turn to her
      Call her by my name.