Vesna Parun--Croatian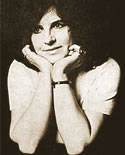 Vesna Parun
(1922-    )
Born in 1922, on a small Croatian island, Vesna Parun has been called one of the most outstanding Eastern European poets of all time.  Her first book, Dawns and Winds, published in 1947 won side acclaim.  During her life she published more than thirty collections of poetry, ten children's books, an impressive score of radio drams, prose and translations from Slovenian and Bulgarian.  Her own poems have been translated into Bulgarian, Czech, English, French, German, Russian, Slovakian and Slovenian.  Her work has often been compared to the great Russian writer, Anna Akhmatova.  Throughout her life she won many literary awards including the City of Zagreb Award, and the Vladmir Nazor Prize.
My Grandfather

My grandfather sits in front of the house and leaves fall.
            He looks at the figs that dry on the stone,
while the sun, very orange, vanishes behind the small vineyards
            I remember from childhood.
The voice of my grandfather is golden, like the melody of an old clock,
and his dialect is rich, filled with restlessness.
The legend of "Seven Lean Years" follows right after the "Our Father," short and eternal.
One day, there was no more fishing.
Now, there is war.
The enemy surrounds the port for miles around.
The whole tiny island trembles in eclipse.
All her sons disappeared in search of war wages—
a long time ago.
Canada,
Australia…
They'll board them next for Japan.
It's possible they'll stay forever with their heads among the bamboo.
This is the second winter that they've marched non-stop.
Even the fish sound gloomy in their chase.
One grandson is fair and good, yet, we'll find him in the snow one day
when the mountains are tired.
The girls sing as they prepare the picnic soup.
The children squat on the floor, very frightened
of the boots of the elegant old man.
One mother thinks of the sons and father who became a Malayan.
Strange, how this family has been scattered over four continents.
These big brawny people sound like children in their letters.
My grandfather stares at the red sun in the vineyard,
worn to silence, because death is near—old fisherman of the sea. 
Foreign greed; strange hunger.  Freedom is a bit of breadcrust.
Ah, tell the earth that watermills should run faster!
A storm took away leaves; whatever's right shall be.
So, the young boys die, and the old men warm up their sorrows,
                                                                        staring at the horizon.
Translated by Ivana Spalatin and Daniela Gioseffi