Karl Shapiro--American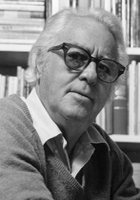 Karl Shapiro
(1913-2000)
Karl Jay Shapiro was born in Baltimore, Maryland, in 1913 of Jewish parents.  Throughout his life, Shapiro formed a live-hate relationship with being Jewish.  During World War II, Shapiro wrote poetry while stationed in New Guinea and sent them stateside where his fiancée had them printed.  Most notable from this period: Person, Place and Thing (1942), Place of Love, Essay on Time (1945) and V-Letter and Other Poems (1945) for which he won the Pulitzer Prize.  Following the war, Shapiro became an English professor. He was Poet Laureate and among his other awards are a Guggenheim Fellowship, the Contemporary Prize, and the Levison Prize.  He died in New York City in 2000. (1943)
Elegy for a Dead Soldier
A white sheet on the tailgate of a truck becomes an altar,
Two small candlesticks sputter at each side of the crucifix
Laid round with flowers brighter than the blood
Red as the red of our apocalypse
Hibiscus that a marching man will pluck
To stick into his rifle or his hat
And great blue morning glories
Pale as lips that shall no longer taste or kiss or swear
The wind begins a low magnificat
The chaplain chats
The palm trees swirl their hair
The columns come together through the mud

The time to mourn is short that best becomes
The military dead.
We lift and fold the flag,
Lay bare the coffin with its written tag,
And march away.
Behind, four others wait
To lift the box, the heaviest of loads.
The anesthetic afternoon benumbs,
Sickens our senses, forces back our talk.
We know that others on tomorrows roads
Will fall, ourselves perhaps, the man beside,
Over the world the threatened, all who walk:
And could we mark the grave of him who died
We could write this beneath his name and date:


Epitaph

Underneath this wooden cross there lies
A Christian killed in battle.
You who read,
Remember that this stranger died in pain;
And passing here, if you can lift your eyes
Upon a peace kept by human creed,
Know that one soldier has not died in vain.